Ca' du Lin
Bed and breakfast in Roero
IN THE HEART OF ROERO
A rich and surprising territory …
Welcome to Ca 'du Lin bed and breakfast , a nice option for travelers like you.
Surrounded by green woods it is the perfect place for those who want to get away from the chaotic city life to relax surrounded by nature.
20 km from Asti and Alba, B&B Ca 'du Lin stands on a hill from which you can enjoy an unique and extraordinary view of the Roero hills, an area which, together with Langhe and Monferrato, has recently been included among the heritage sites UNESCOof humanity.
In the suggestive rural setting of Roero, in the valley overlooking the characteristic village of Cisterna d'Asti, the bed and breakfast CA 'du Lin is a warm and welcoming location to spend a stay in the name of an authentically relaxing time with the its rooms, genuine food, country life, the flavor of an experience linked to past times.
Family management, attention to detail, nature in a context full of possibilities and experiences to live.
Ca 'du Lin bed and breakfast is in an excellent position to visit Langhe, Roeroand the hills of Asti, lands with an excellent wine-growing vocation and unique and spectacular natural landscapes.
Ca 'du Lin Bed and breakfast has comfortable rooms with private bathroom, air conditioning, large balcony or terrace, garden, spectacular view over a unique panorama.
It is located in San Matteo Valley of Cisterna d'Asti , in a privileged position to reach Langhe and Roero in a very short time.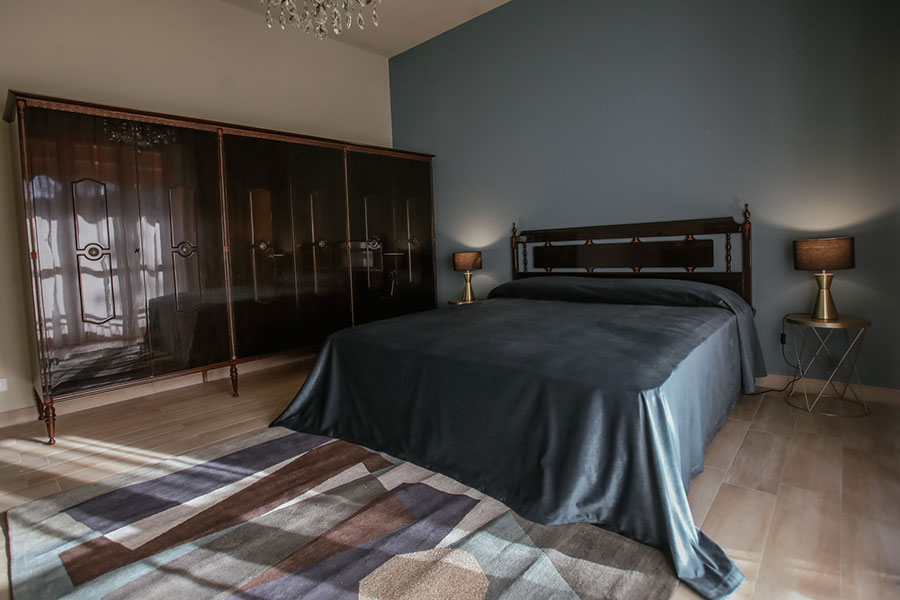 Blue Room
The blue room consists of a room and an external bathroom with the particularity of the whirlpool bath as well as the spacious shower and bidet, its spacious balcony facing the hills of the "Torrazzo".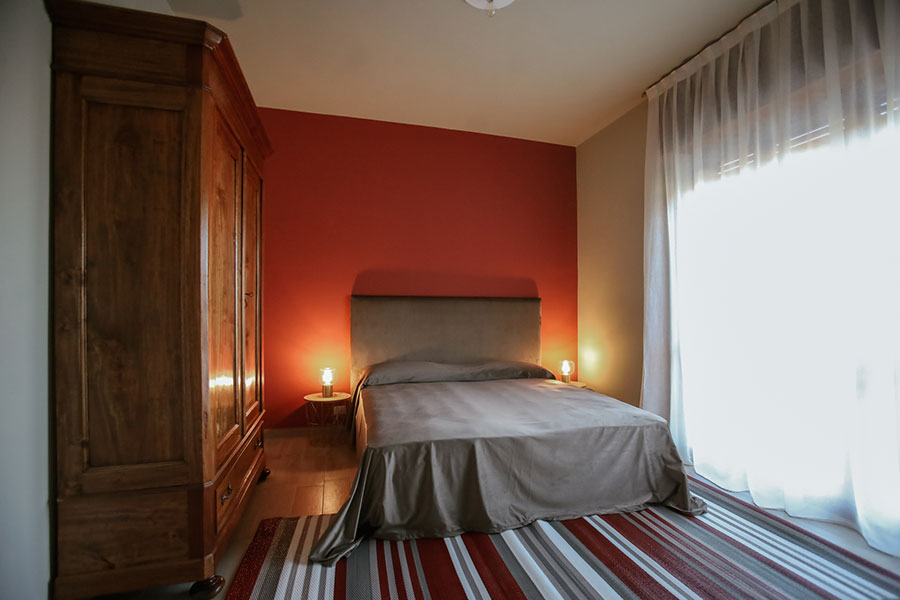 Red Room
The red room is characterized by delicate colors in red tones, consisting of a room and an internal bathroom with a spacious terrace and a view that turns towards the Castle of Cisterna d 'Asti.
Green room
The green room, about twenty square meters, consists of an internal room and bathroom without the balcony. The environment is distinguished by furnishings that combine tradition with modernity.
RICH AND VARIED BREAKFAST
You will taste local products …
Country breakfasts: we serve sweet and savory breakfasts, the sweet ones made up of biscuits, cakes and pies made by us while for the savory breakfasts we serve tomatoes, cheeses with sauce, and vegetables grown and prepared by us.
Do not forget a good milk and a good coffee, with us you have to experience the countryside in its entirety.
Room service is also available.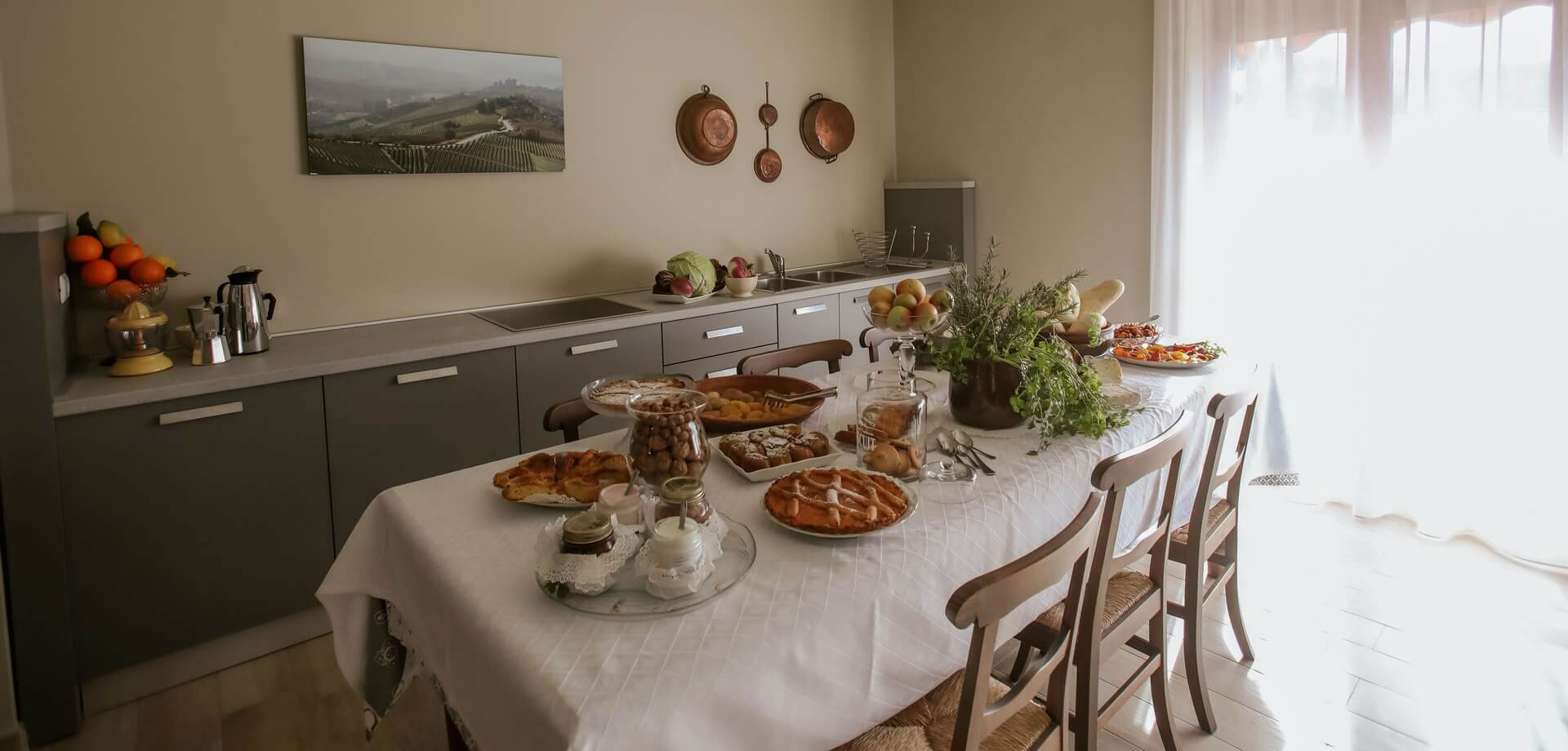 Roero itineraries
Only a few kilometers and Albaand Astiawait you with their cathedrals and medieval towers of intact historic centers.
Castles
Near our Bed & Breakfast you can admire the Medieval Castle of Cisterna d 'Asti , which houses the Museum of Arts and Crafts of the past.
Nature trails
Tours and ring routes of all difficulties to discover the area on foot or by bike in the hills surrounded by immense expanses of vineyards.
Wine itineraries
We collaborate with some of the most prestigious wineries in the area, where it is possible to visit them by taking a complete tour from the vineyard to the cellar.
Cultural Appointments
All year round it is dotted with markets, exhibitions, patronal feasts, castles and open farmhouses, to get to know and taste the typical products of the area: the great wines, fruit and vegetables of our Roero.
Taste itineraries
Where food becomes art. Discover the best Piedmontese culinary traditions, history, recipes and the right combinations with local wines.
ABOUT US
Reviews from our customers
We spent three days in this magnificent b & b, we were greeted with extreme kindness by the whole family that runs this structure. The awakening is truly magical thanks to the homemade breakfasts prepared with love and passion. The rooms are treated in detail. Antonella is the soul of this house, she guided us in our days and made us live an unforgettable experience that will always remain in our hearts !! We can't wait to go back!
Large rooms, truly excellent breakfast and aperitif and maximum availability from the family that manages.
Ideal rooms for both couples and families, but also for companies up to 10 people.
Family run, the owners are super welcoming, kind and available for anything.
Homemade aperitif and breakfast, very good wine.
Recommended.
The passion and care and attention with which everyone participated to make the dream come true that will bring happiness, satisfaction and a lot of joy!
Book a room for a totally relaxing stay